Cookies There are so many cookies to tempt your pallette...A few of our favorites are listed here, contact us for more!
Our Signature Cookie!!A delicious blend of oatmeal and chocolate chipslightly dusted with a Sea Salt finish.Ginger FigCucidati (Seasonal)Sour Cream and LimeOatmeal Raisin GingerCut Out Sugar CookiesBiscottti
CupcakesWhether it's a good old-fashioned traditional, or a specatular specialty, you will fall in love with Cupcakes all over again!Some of our favorites are listed here, but there are oh-so-many-more to choose from!
Sticky Fig with Brown Sugar GlazeTop to Bottom Crumb CoffeeBlackberry Icecream Cone Cakes with Blackberry Cream CheeseMud Cakes***All of our cake flavors can also be made as cupcakes.***
Cakepops!
Perfect for parties! Cakepops are both delicious and decorative.
Choose a basic ball or we can customize them into just about anything you can imagine.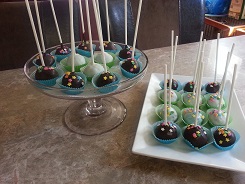 Pies & Other Sweet TreatsOur handmade crusts make our pies deliciously delicate.Our whipped cream is always freshly homemade.
Gourmet PumpkinChocolateAppleLemon ChessButtermilkChocolate Peanutbutter
Breads
Artisian Luigi Loaf
Buttermilk BiscuitsCorn BreadBreadsticks